Welcome to Google Search Engine Optimization (SEO) Guide, your comprehensive, all-in-one guide to getting competitively ranked on Google's search engine.
SEO means search engine optimization, or the optimization process of a website in order to render it easy to find through search engines such as Google. So then how do you optimize your site's content for Google SEO?
Google SEO: Keyword Research
Keyword research is the process of understanding the language your customers use when they search for your products, services and content. It then means analyzing, comparing and prioritizing the best keyword opportunities for your website.

It is best to do keyword research before you begin writing content. This will let you understand which keywords to focus on in your content. It is always best to use a mix of both broad and long-tail keywords.
Keyword research can also help you answer questions such as:
How difficult will it be to rank for this keyword?
How much traffic can I obtain if I rank for this keyword?
Which type of content should I create to rank for this keyword?
Are people searching for this keyword likely to convert into my customers?
Google SEO Guide: On-Page Optimization
After you have completed your Google SEO keyword research and have a shortlist of Google SEO keywords you want to target, now it' s time to do some writing. Your SEO keywords should appear in your content, but don't exceed them or your content will look spammy.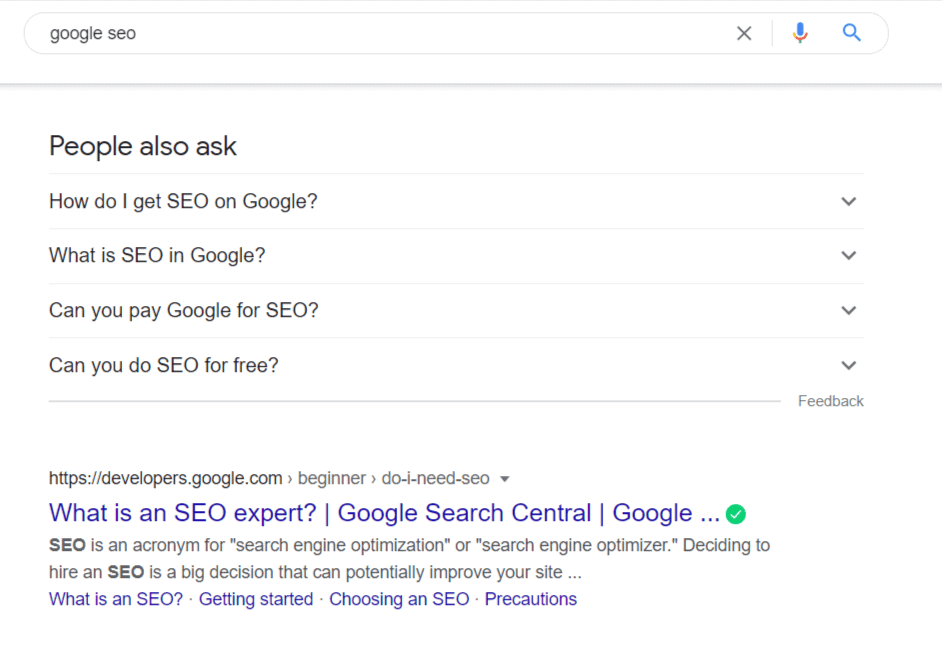 Post your top-valued keywords in:
Body of the text: It's a no-brainer, right? Remember not to use the same keywords over and over again. Add modifiers (e.g., "best," "top") and long tails.
Title: Having the keyword in your title will improve your CTR from the SERP. (See our guide to title tags for more help on writing SEO-friendly titles).
Subtitles: Subtitles/H2 are valuable places for Google SEO keywords.
Your task is not over yet! Remember to add the Google SEO keywords in the:
Meta title: The meta title will appear in search engine results. Use some strong keywords in it.
Meta description: This description appears below your link in Google. Type an attractive meta description that includes relevant keywords to increase your click-through rate.
Image file names/ALT attributes: Firstly, include images in your Google SEO content! Images are engaging and appealing to readers, and Google likes them too. Use the keyword in the file names (e.g., how to catch fish.jpg). Also use the ALT attribute to tell search engines and users what the image is with a keyword.
Anchor text: Link to your new page from other pages on your site, using your keyword as anchor text. This helps Google crawlers find and rank your page.
Google SEO Guide: Link building and Content Promotion
Enhance the visibility of your optimized content by sharing it on social networks and building links to your content. Make sure to create internal links and build external links from external sites. These activities are known as "off-page SEO".
Link building is the professional process of getting other websites to link to pages on your website in order to help it rank higher in Google's search results.
If you can go to a website that is not yours and manually place your link there, that's called "Building" a link. The most common tactics that fall into this category are¨:
Business directory submissions;
Social profile creation;
Blog commenting;
Posting on forums, communities and question and answer sites;
Creating job search lists;
etc.
Related Posts