To increase your company's local ranking, use Google my business profile to claim and update your company's information.
When someone looks for a specific service or place near their location, they will find local results on Google in places like Google Maps and Google Search. As an example, you are likely to find local results if you search for "Moroccan restaurant" from your smartphone. Google will try to display the type of nearby restaurant you'd like to visit.
Local SEO is important for small businesses that do business locally. When National SEO focuses more on appearing in searches across the United States, Spain… Local SEO is more about appearing in the SERPs of a specific geographical location. This strategy builds on marketing branding, products and services to local clients.
Also, Local SEO optimization means higher website traffic, leads and conversions, since the strategy is more relevant to your local target customer base. Look at this focused strategy as a way to help you communicate more effectively against larger national brands that have unlimited resources to spend.
So now that you've seen that optimizing your Google business profile is the key to helping you get found in local searches, stand out from your competitors, and win more customers online, it's time to get to work on it.
How to improve your local ranking using Google my Business
1. CREATE A GOOGLE MY BUSINESS ACCOUNT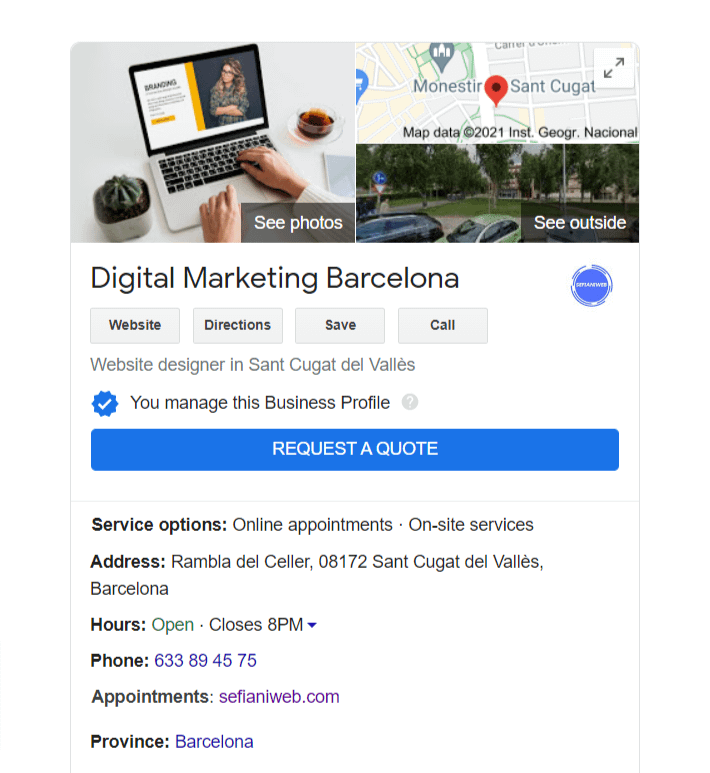 To start with Google My Business is very simple; you have to create an account and claim your business. After completing your details, you will receive a postcard from Google at the address you provided. This card is verification that you are the owner of the business listed on the address. Some business categories can be verified by a phone call or email. Google has a special page to help you check verification status.
2. OPTIMIZE GOOGLE MY BUSINESS PROFILE PAGE
First, you have to claim your listing. Then, you can use the following tips to ensure that your Google My Business account is running successfully. Keep in mind that everything you add must be matching the information you provide on your site. Incorrect information kills your listings and may kill your search engine rankings:
Claim your listing with your actual business name
Choose a category as accurate as possible
Provide as much data as you can – your profile has to be 100%
Check your phone number
Check your opening times – think about holidays!
Review your photos – are they accurate and good, or can you improve them?
Create citations on other sites as well – pick well-regarded business listing or review sites and directories, stay away from spammers
Keep your My Business listing in line with your site – and use Schema.org structured data
Above all, keep your data up to date
3.GOOGLE MY BUSINESS LISTING MANAGEMENT DURING COVID-19
A lot of businesses might have to close – temporarily – during the Coronavirus/COVID-19 pandemic that is currently in progress.
IMPORTANT GOOGLE MY BUSINESS COVID-19 STATUS UPDATES
If your business is affected by COVID-19, update your Google My Business profile to give the most updated information to your customers. You can provide updates about your business to customers as:
Your adjusted hours of operation, for instance if you close early.
Add "More hours" that describe other business operations such as delivery, takeout, and drive-through.
Select an attribute to show you offer online services such as classes, appointments, or estimates.
Delays on specific business services.
Extra services you are providing for the community.
If your business is "Temporarily closed".
These updates will be displayed on your Google Business profile in Google Search and Maps.
You can read more about Covid-19 updates and suggestions for Google My Business
Like any Google SEO strategy, your Google My Business strategy should focus on giving as much quality information about your business as you can, not only in your business profile, but also in the sources Google uses to populate it: your website, review site profiles, and even your social media accounts.
We might never know all the very specific ranking factors, but we do know your final objective: to connect searchers with the best business for their needs through detailed, trusted information. So concentrate on using your Google My Business dashboard to make your business profile represent your business as accurately and completely as possible, and be sure to keep it, and you'll get its benefits.
Boost your business with our local SEO strategy and approach by contacting us:
Related Posts